How To Fix
Trending
Windows Update Error Something went wrong. Try to reopen settings later
Something went wrong. Try to reopen settings later
Fix "Something went wrong. Try to open settings later" while updating window 10
Sometimes we face various issues while using our windows as windows 10 is full of bugs and errors.One such error occurred while updating windows 10 is "something went wrong try to reopen settings later"
Microsoft keeps on providing windows update time to time to fix those bugs and errors, but what we do when windows update itself causes the error? Today, I am gonna talk about one of those bugs in windows update Something went wrong Try to reopen settings later while trying to update your windows 10.
If you also encountered with the same situation, here are few ways on how you can fix this error of "Something went wrong. Try to open settings later" in windows 10. Best part of this article is that, while using the below mentioned fixes you may be able to resolve most of the errors occurred while updating windows 10.
Most of the users requested to have a video tutorial to get more specific results. So, below is the video tutorial to fix windows update error. Have a look at it :
#Step 1 :

Something went wrong try to reopen settings later by resetting windows component
Windows update components are stuck are sometimes doesn't respond while further cause such error. So let's go ahead and reset windows update components to resolve windows update error.
Related: We Could Not Complete the Install Because an I Update Service was Shutting Down – LotusGeek
Click on Start menu and type here CMD,  and choose CMD run as an administrator to open command prompt in admin mode. Now we are going to first stop the windows update service and than one by one restart them. Type following command one by one and hit enter key after each command :
Net stop Bits
Net stop Wuauserv
Once you stop the services your next step is to delete a particular windows update file. Kindly copy the below mentioned command and paste in the command prompt. Hit the enter key to process the command and delete the file :
Del "%ALLUSERSPROFILE%\Application Data\Microsoft\Network\Downloader\qmgr*.dat"
Now Let's go ahead and Re-register your windows update file manually. Paste the following command one by one and hit the enter key after each command :
cd /d %windir%\system32
regsvr32.exe atl.dll
regsvr32.exe urlmon.dll
regsvr32.exe mshtml.dll
regsvr32.exe shdocvw.dll
regsvr32.exe browseui.dll
regsvr32.exe jscript.dll
regsvr32.exe vbscript.dll
regsvr32.exe scrrun.dll
regsvr32.exe msxml.dll
regsvr32.exe msxml3.dll
regsvr32.exe msxml6.dll
regsvr32.exe actxprxy.dll
regsvr32.exe softpub.dll
regsvr32.exe wintrust.dll
regsvr32.exe dssenh.dll
regsvr32.exe rsaenh.dll
regsvr32.exe gpkcsp.dll
regsvr32.exe sccbase.dll
regsvr32.exe slbcsp.dll
regsvr32.exe cryptdlg.dll
regsvr32.exe oleaut32.dll
regsvr32.exe ole32.dll
regsvr32.exe shell32.dll
regsvr32.exe initpki.dll
regsvr32.exe wuapi.dll
regsvr32.exe wuaueng.dll
regsvr32.exe wuaueng1.dll
regsvr32.exe wucltui.dll
regsvr32.exe wups.dll
regsvr32.exe wups2.dll
regsvr32.exe wuweb.dll
regsvr32.exe qmgr.dll
regsvr32.exe qmgrprxy.dll
regsvr32.exe wucltux.dll
regsvr32.exe muweb.dll
regsvr32.exe wuwebv.dll
We have updated the windows components manually to fix something went wrong try to reopen settings later update error. Now next step is to reset Winsock in your pc. So now type the following command and hit the enter key to reset winsock :
Netsh winsock reset
Now let's restart the Windows update services again by entering the following command one by one and hit enter key into command prompt :
Net start Bits
Net start Wuauserv
Now type EXIT and hit enter button and than restart your pc to take the changes take place. This way we have reset windows update component manually. This will fix your issue if it doesn't worry proceed to next step.
#Step 2 :



Fix something went wrong. Try to reopen settings later in windows 10 using Update script
In this step we are going to reset windows update using the windows script. Click on the below link to download the script and save it.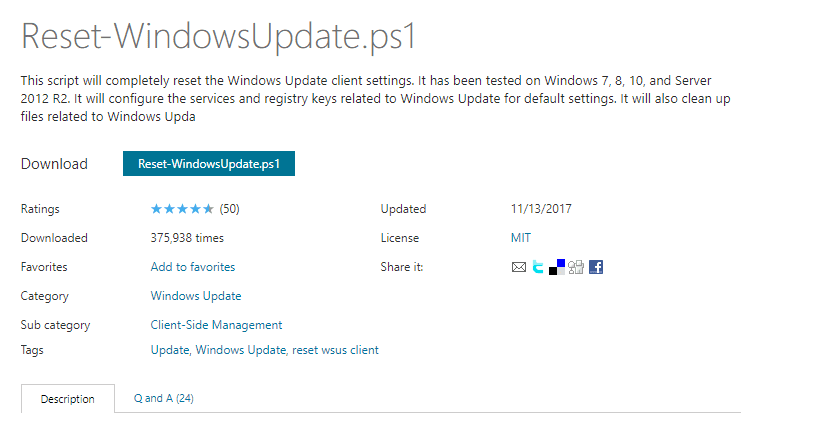 Once the script is downloaded, right click on it and click on Run with Powershell.  It will look like this :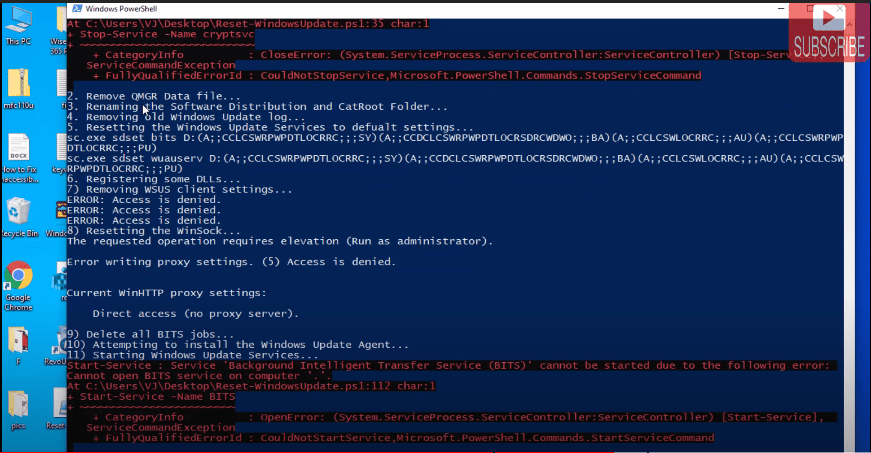 This command will take few minutes to process depending upon the speed of your PC. Once it's completed please restart your pc for the changes to take effect. This will fix out your issue of windows update.
Also Read: Find All Your Connected WiFi Password in 2 Clicks
#Step 3 :



Fix Something went wrong try to reopen settings later by resetting windows update agent
In third step we are going to reset windows update agent. Kindly download the windows update resetter from the below mentioned link and save it in your pc
Once the download is finished please open it and extract the files wherever you want. The folder contains 5 files and you need to run only two files below mentioned one by one.
ResetWuEng
SetupDiag
First run SetupDiag and make sure you run it by right clicking on it and select the option run as administrator option.
Now run second file named ResetWuEng by right clicking on it and select run as administrator.  It will open some command options for you like this :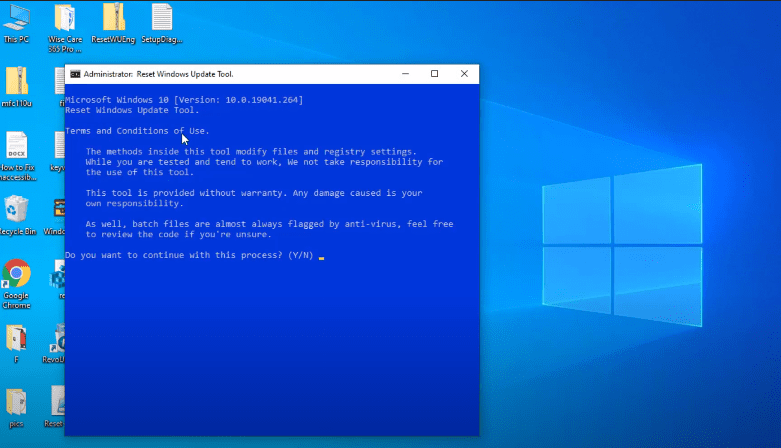 Now type Y to proceed with the process. Now it will open another windows to you. From here choose option 2 to proceed by resetting windows update components and hit enter button.
Now once the process is completed choose 0 option and hit the enter button to exit the command screen.
Now restart your computer and you are done. This will fix your windows update error something went wrong try to reopen settings later.
Conclusion: Windows update is necessary part windows 10 and you must enable windows update to fix any kind of bugs and errors in your windows PC. Windows update do provide security fixes also and provide better working environment. If somehow you unable to update windows 10 due to any bug we have provided you the best ways to fix those issues. One such issue "something went wrong try to re open settings later" already described with you.
That's all folks, if your problem is still persists kindly comment with the error and ll you provide more ways for resolution.
You may be interested: How to Use PenDrive as RAM in Windows PC – LotusGeek
Here's our PayPal link if you consider supporting us by donating as it takes time, efforts and money to make this website spam free. Every single penny counts. Even $1 makes a huge difference.